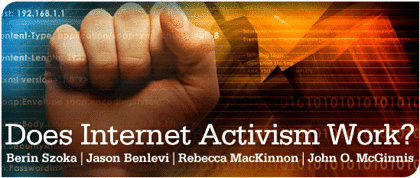 About this Issue
What is the relationship between technology and freedom? The West has asked itself this question again and again, particularly since the Enlightenment: Think of Jeremy Bentham's panopticon, Aldous Huxley's soma, and George Orwell's telescreen.
Historians have also noticed how technology and freedom may be friends or enemies to one another. City walls kept urban dwellers relatively free in medieval Europe — until early modern cannons brought them down, and in came the king's administrators. The printing press promised to free people's minds, but it arguably took centuries before it delivered on its promise. Mechanized warfare killed hundreds of millions in the twentieth century, while the mass media offered opportunities for both control and resistance.
Today Internet technology has spread across the world and into every corner of our lives. But how does it alter the balance between liberty and power? Many have viewed the Internet as an unmitigated good, but others are quite skeptical. They note that repressive regimes are often quite happy to welcome the Internet — discreetly monitored, of course, to prevent anyone from spreading subversive thoughts. In the meantime, their subjects get cheap entertainment to help them forget all about their political woes.
To discuss these questions, we've invited a panel of experts. Each sits somewhere between doom-and-gloom and techno-utopianism. Lead essayist Berin Szoka is the founder TechFreedom, a think tank dedicated to technology policy, entrepreneurship, and individual choice. Jason Benlevi is the author of Too Much Magic: Pulling the Plug on the Cult of Tech, which urges us not to believe all the hype coming from the Internet sector. Rebecca MacKinnon spent years observing China's Internet policy and is the author of Consent of the Networked: The Worldwide Struggle for Internet Freedom. John O. McGinnis is a law professor at Northwestern University who specializes in technology and trade law, using a public choice approach to his subject.
Lead Essay
Response Essays
The Conversation