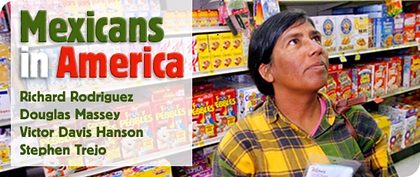 About August 2006

Today's heated debate over immigration and border control is largely a debate about Mexicans. It is often argued that Mexican immigrants in particular place a heavy burden on social services, especially in border states, bring crime in their wake, depress wages, and displace American workers. Some argue that although we are a nation of immigrants, and that immigration is generally good, Mexican immigrants are different: they are either unwilling or unable to assimilate and become full-fledged Americans, and, therefore, a heavy concentration of Mexican immigrants in the Southwest threatens a distinctively American way of life. How much truth, if any, is in these arguments? A reasonable debate about Mexican immigration requires that we really know about Mexicans in America. Who are the Mexicans coming to the U.S.? Are they fitting in? Are their children fitting in? Their children's children? What kind of contribution are they making to the American economy and character? In what ways are the U.S. and Mexico interdependent? Are they buying homes, starting businesses, setting down roots? Are they upwardly mobile? Civically active? Is their labor market participation hurting American workers? Making America richer, economically and culturally? Answers to these questions can make a huge difference–between belief in amnesty and openness, or deportation and a wall. Getting it right matters. So let's try to get it right.

Richard Rodriguez, author of the celebrated Hunger of Memory and, most recently, Brown: The Last Discovery of America, leads off this month's issue with a provocative meditation on the role of Mexico and Mexicans in the U.S. economy and consciousness. Hoover Institution senior fellow Victor Davis Hanson, author of Mexifornia, will reply, as will Douglas Massey of Princeton University's Mexican Migration Project, and labor economist and immigration expert Steve Trejo of the University of Texas.
Lead Essay
In the lead essay to this month's Cato Unbound, celebrated essayist Richard Rodriguez offers a provocative meditation on the place of Mexicans in the U.S. economy and consciousness. "I retain my belief in the necessity of a common American culture," Rodriguez writes, "But I am lately appalled by voices raised in this country against Mexican migrant workers." Arguing that the question of Mexican immigration "might better be asked of a theologian, than an economist," Rogriguez considers the religious and cultural character of Mexicans, and the role of Mexico as a repository of American sin, and American fear.
Response Essays
Victor Davis Hanson recounts the proposals from his book Mexifornia, and sets out a biting, detailed reply to Richard Rodriguez's lead essay. "Here he has sadly advanced no real argument," Hanson writes, "but instead offers only a melange of ethnic vignettes, and, for some reason, ad hominem attacks of the very sort he used to deplore." Hanson charges that Rodriguez, writing from his tony San Francisco haunts, offers only a cartoon version of his and others' work, and fails to directly face the troubling economic and social consequences of unlawfully resident Mexicans in America evident to Hanson in the San Joaquin Valley.

In his reply to Rodriguez, Douglass Massey, the Henry G. Bryant Professor of Sociology and Public Affairs and co-director of the Mexican Migration Project at Princeton University, writes that "Mexican immigrants are routinely portrayed as a tidal wave of human beings fleeing an impoverished, disorganized nation who are desperate to settle in the United States, where they will overwhelm our culture, displace our language, mooch our social services, and undermine our national security… This profile, however, bears no discernible relationship to the reality that I know as a social scientist." Massey, drawing on his decades of research on Mexican migration, argues each element of this picture is false, and has exacerbated the problems of Mexico-U.S. immigration.

How well are Mexican immigrants and their offspring assimilating? In his contribution to this month's discussion, University of Texas economist Stephen J. Trejo lays out the latest findings. According to Trejo, "Mexican Americans are not too far off the path of intergenerational assimilation traveled by previous waves of European immigrants. During their first few generations in the United States, Mexican-American families experience substantial economic and social mobility, and their actual progress is probably even greater than what we see in available data." However, a slow rate of educational attainment remains a "critical problem" that may delay the full integration of Mexican Americans.
Related at Cato