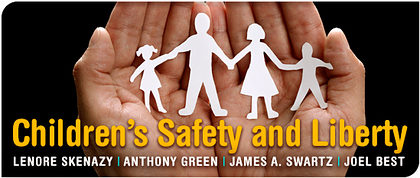 About this Issue
Children occupy a unique place in public policy. They are among the very few constituencies who cannot vote, but they will in time. As adults, we make many decisions for them, whether through the institutions of the state or private life. How do we balance liberty and safety for this vulnerable and very important population? It is clearly possible to have too little safety, but can we have too much?
Lenore Skenazy, this month's lead essayist, says yes. She's the author of the book and blog Free Range Kids, which argues that children need a healthy dose of independence, and that many of the dangers of childhood have been exaggerated to the children's own detriment.
To discuss with her, we've invited Anthony Green, director of Safe Kids USA; James A. Swartz, director of World Against Toys Causing Harm; and sociologist Joel Best of the University of Delaware.
Lead Essay
Response Essays
The Conversation
Letters to the Editor