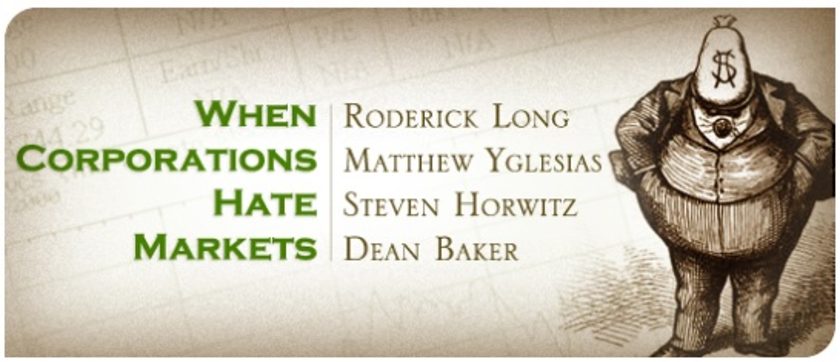 Lead Essay
Corporations versus the Market; or, Whip Conflation Now by Roderick T. Long

November 10, 2008

In this month's lead essay, philosopher and libertarian theorist Roderick T. Long draws a sharp contrast between corporatism and libertarianism properly understood. He argues that liberals, conservatives, and even libertarians have all been guilty to some degree of obscuring this difference, and that the quality of our political discourse has suffered accordingly. He suggests that libertarians should guard themselves against falling into the trap of "vulgar libertarianism," in which all things good spring from business, and particularly from business as usual. Corporations, he argues, should be no more free from scrutiny than any other institution in society, and often businesses have done more than their share to hamper free economic relations in the industrialized world.

One implication of all of this is that the truly free market is farther away than we imagine. Long suggests several ways in which a freed market would be different from what we see around us today. Notably, nearly all of these differences are to the benefit of the consumer and the small or start-up business. These likely outcomes of laissez faire suggest new grounds for left-liberals and libertarians to revise their thinking on economic issues and on politics more generally.
Response Essays
The Conversation
Related at Cato