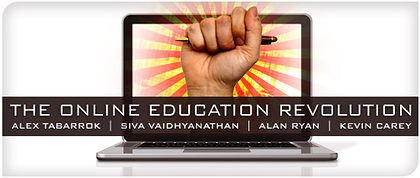 About November 2012

The Internet has already remade journalism in ways too numerous to count. By comparison, many educational institutions stand relatively unchanged: Students attend in-person lectures from professors at fixed times; they study, do homework, take tests, and receive grades, all more or less as they did before the advent of the digital revolution.

There is no clear reason why this should be, argues this month's lead essayist, George Mason University economics professor Alex Tabarrok. Universities in particular stand to realize huge gains in productivity by making use of existing Internet tools that they haven't adequately exploited so far. Along the way, many things may disappear, including the familiar 50–90 minute lecture class, fixed class schedules themselves, and even homework as we know it. He believes that education will become more flexible, more accessible, higher in quality, and cheaper in the process. Tabarrok isn't just speculating, either. With fellow GMU professor Tyler Cowen, he recently founded Marginal Revolution University, a free online educational platform that aims to make the most of digital teaching's potential.

To discuss this fascinating example of creative destruction and its implications for educational policy, we have invited a panel of distinguished commentators: Siva Vaidhyanathan is the Robertson Professor in Media Studies and Chair of the Department of Media Studies at the University of Virginia; Alan Ryan is the former Warden of New College, Oxford, and a frequent commentator on developments in liberal education; and Kevin Carey is director of the education policy program at the New America Foundation.
Lead Essay
Alex Tabarrok reviews why traditional education is getting more expensive; he finds that its productivity has not been able to rise as fast as productivity in other sectors. Online education offers a promising alternative, and he explains how, if done properly, online education can realize productivity gains along many different dimensions. He concludes that online education is disrupting traditional educational forms, and that it is not yet clear what new forms will emerge from this exciting transition.
Response Essays
Alan Ryan views online education as potentially beneficial for students of lower-income families, but he demurs somewhat: As a technology, lectures have mostly been obsolete ever since the spread of the printed book. And the tutorial system as employed at Oxford will not realize many efficiency gains by going online. Additionally, the ability to selectively view the best fifteen minutes of any current professor's oeuvre bodes ill for the professoriate, whose careers may all become just that short.


Siva Vaidhyanathan criticizes the "hypodermic needle" theory of communication, in which a communicator uses mass media to inject content into a passive audience. He argues that Alex Tabarrok's lead essay is to some extent guilty of employing this theory. The true value of higher education lies not in injecting information, but in students' and educators' interactions. Online education can sometimes duplicate this process, but MOOCs are typically little more than "fancy textbooks." While they have promise in some areas, we shouldn't trust the hype.

Kevin Carey argues that the implications of online education are even more radical than Alex Tabarrok's lead essay might imply. The introductory courses that scale well are almost certain to go fully online soon. Accreditation for online learning can't be far behind, possibly by way of systems other than the traditional university credit. Little stands in the way of this shift except "habit, convention, and government regulation." But afterward, the old university system may no longer be solvent.