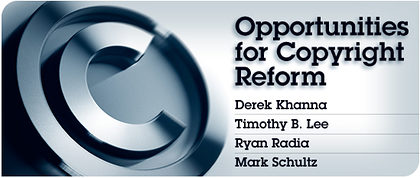 About this Issue
The U.S. Constitution authorizes Congress to establish copyright "for limited times," "to promote the progress of science and useful arts." Yet throughout our country's history, and particularly in the twentieth century, copyright terms have steadily grown longer. If such extensions continue as regularly as they have, one may easily argue that copyright isn't for a limited time in any practical sense. Worse, the terms themselves may simply be too long in light of their stated public policy goals.
Is copyright still serving its original purpose? Could it serve that purpose better? This month's lead essayist, political consultant and author Derek Khanna, argues that the answer is yes. Copyright terms should be shortened, and he describes several opportunities and strategies for doing so.
Copyright is an area of public policy in which disagreements exist both on principle and in practical implementation. To discuss these, we have invited Cato adjunct scholar and tech policy author Timothy B. Lee, professor Mark Schultz of Southern Illinois University School of Law, and Ryan Radia, Associate Director of Technology Studies for the Competitive Enterprise Institute.
Lead Essay
Response Essays
The Conversation