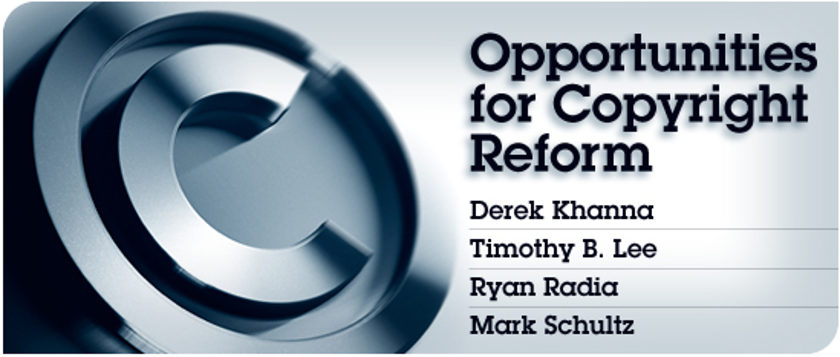 Lead Essay
The Way Forward on Copyright Reform by Derek Khanna

January 7, 2013

Derek Khanna argues that copyright was never intended to stand in perpetuity, yet that is in effect what we have for a large number of works today. Copyright's original purpose was not to compensate content creators, but to promote the arts and sciences, as explained in the Constitution. Returning to that aim should entail shorter copyright terms, which permit future reuses of creative content. Khanna outlines several upcoming opportunities to move in this direction.
Response Essays
Civil Asset Forfeiture and Intellectual Property by Timothy B. Lee

January 9, 2013

Since the passage of the 2008 PRO-IP Act, the federal government has been able to use civil asset forfeiture to circumvent even having to make a case against copyright infringers. It may now simply seize and shut down allegedly violating websites. Libertarians have always found civil asset forfeiture troubling, and its extension into intellectual property should be reversed. Timothy B. Lee argues that this is one place where our copyright system is ripe for reform.

A Balanced Approach to Copyright by Ryan Radia

January 11, 2013

Ryan Radia argues for a middle path on intellectual property. He reminds those who treat copyright as a privilege or a subsidy how similar copyright is to traditional property protections. He further reminds those who favor the current system that in practice, even property rights in land are subject to abridgement in the name of efficiency.

Copyright Reform through Private Ordering by Mark Schultz

January 14, 2013

Mark Schultz argues that labeling copyright a regulation rather than a property right will perversely result in more regulation and less freedom. Copyright is a flexible system that allows private bargaining and a wide array of mutually satisfactory transactions. Indeed, the creative use of copyright has already substantially mitigated many of the perceived dangers of Digital Rights Management. Considered as such, the private ordering system known as copyright is worth defending.
The Conversation
Related at Cato